Keystone Mailbox Replacement Parts
Unfortunately, all mailboxes are notorious victims of vandalism, accidents, and many other "unseen" events that can cause damage and broken parts. Having seen thousands of broken mailboxes over the years, we know exactly what breaks when accidents occur.
Luckily, the Keystone Series mailboxes can usually be put back "like-new" with the purchase of new parts. Usually the two pieces that most often break are the "beam" (which is the horizontal metal piece the mailbox is actually attached to) and the "brace" which is the arching decorative piece that slips into the bottom of the beam. Rarely, the ball top or end cap get damaged, but it too is available. You can even buy a replacment Keystone Mailbox Flag
Simply change the "0" to how many specific parts you need to order. Then add to cart. The prices include UPS Ground delivery.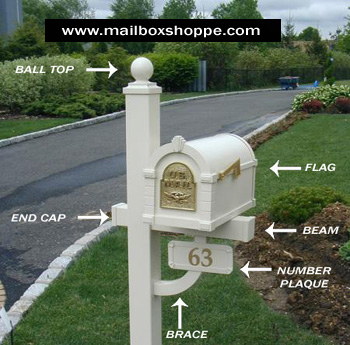 THESE PARTS ONLY WORK WITH GAINES MANUFACTURING KEYSTONE MAILBOXES.

There have been similar looking units over the years, but the parts we sell only fit genuine Keystone Series mailbox posts. If you are not 100% certain, you need to call us before ordering. Thank you.