Estate Liberty Vinyl
Mailbox Post

This is a vinyl sleeve that slips over a pressure-treated wood ground post (not included)

Made from: Polyethylene
Size: 13 " W x 64 " H
Available Color: White, Clay, and Black
Weight: 20 lbs.
Shipment Size: 3 boxes
Mounting posts required: usually a 5-6' long 4x4 post.

REPLACEMENT PARTS are sold to people who already own this post, but it may have been damaged by vandalism or accident.
Please Note: Mailboxes, mounting kits, or 4x4 post inserts are not included.

Ships from factory warehouse
Delivery: 2 weeks

WARNING:
This is a very LARGE mailbox post. If you purchase this post and decide to return it, expect to pay a shockingly expensive return shipping cost. Buyer beware....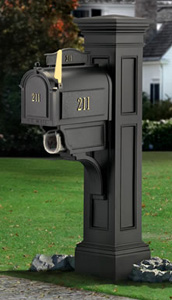 Black Liberty Estate
Vinyl Mailbox Post

MAILBOX NOT INLCUDED:
However, every picture on this page shows the Liberty Post with our Whitehall Mailbox with the optional custom metal address signs. Since the Liberty post is so large, it really needs a large mailbox to be in proportion with it. If you like this combination, here's a link to buy the set:

Liberty Post, Whitehall Mailbox & Signs



Complete Mailbox Post Kit:
Vertical post and post arm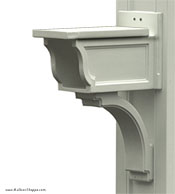 Replacement Post Arm
(No Vertical Post included)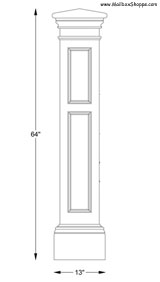 Replacement Vertical Post
(No Post Arm included)
White Liberty Estate
Vinyl Mailbox Post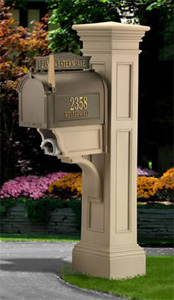 Clay Liberty Estate
Vinyl Mailbox Post
Granite
(Discontinued color)