Newport Plus
Vinyl Mailbox Post

$131.99



Our Newport Plus Mailpost offers a larger stronger mailbox support arm able to handle added weight.
Made from: Polyethylene
Size: 27.25" W x 56" H
Available Color: White, Clay, Granite and Black
Warranty: 15 years
Shipment Size: 2 boxes
Weight: 15 lbs.
Mounting posts required: 4 x 4 (6' long)
Ships from factory warehouse
Delivery: 2 weeks

Post Only. No Mailbox Included.

White Newport Plus
Vinyl Mailbox Post

Pictured with basic mailbox available form any local home center or hardware store for around $15.00.


We recommend a small or medium mailbox (approx. 6.5"width x 9"height x 19" length)


Weight suggestion is 4lbs to 8lbs


Heavier boxes can be used, but we suggest adding extra support by securing one or two lag bolts through the back of the mailbox directly into the wood core


Mail boxes, mounting kits, or 4x4 post inserts are not included.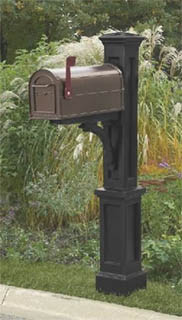 Black Newport Plus
Vinyl Mailbox Post
Pictured with our
Mailbox # 4850

Clay Newport Plus
Vinyl Mailbox Post

Pictured with our Mailbox # 4850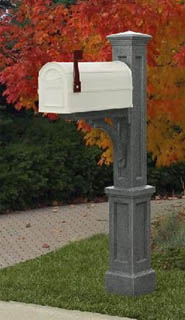 Granite Newport Plus
Vinyl Mailbox Post

Pictured with our Mailbox # 4850