This mailbox is made from solid cast aluminum with a brass flag. It is available with a powder coat painted in 10 colors: : antique copper, antique gold, antique verde green, black, burgundy, champagne, green, gunmetal, mocha, and white. It will not rust or need maintenance. It will grace the front of any home. It measures 20 "L x 9 "W x 10 "H.
Can be mounted to any wood or metal post or the factory posts. Wood mounting board included.

Number Sign: $49.00 + $3.00 for each 2" tall cast brass number.

Newspaper Holder: $69.00

591 Post: $169.00. 590 or 600 Mailbox Post: $199.00. All plus $19.99. We sell two matching cast aluminum direct burial posts in all the matching available mailbox colors. You can also choose a vinyl mailbox post. You can add just the mailbox into the shopping cart, then see our vinyl mailbox post selections by clicking here.

Available Colors: We do not have photos of every mailbox in every available color. Instead we have a page that shows a variety of mailboxes in the colors that are available for this mailbox also.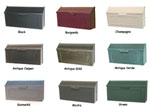 Click to See Color Chart