This mailbox is made from solid cast aluminum.

Available in solid colors black, white, champagne, green, mocha, oil rubbed bronze, and gunmetal. Also available in accent colors antique copper, antique silver, antique verde, and gold rubbed bronze.

It has both a front and rear door.

It measures 20"L x 8"W x 10"H. .
Number Sign: $49.00 + $3.00 for each 2" tall cast brass number.

590 Mailbox Post: $199.00 plus $19.99. We also sell a matching top mount cast aluminum direct burial post in all the matching available mailbox colors.

Available Colors: We do not have photos of every mailbox in every available color. Instead we have a color chart that shows the colors available for this mailbox.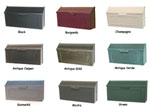 Click to See Color Chart