Traditional Mailbox # 5

Cast Mailbox and Post - $399.00

> Aluminum Casting (no rust)

> Needs to be bolted down (usually to a concrete pad)

> Available in black for $399. Also available in Antique Verde or Antique Bronze for $419.00

> Interior dimensions of the mailbox are 7" wide x 8" high x 19" deep.

> 2" brass numbers ($3.00 each) meaning if your house number is 530, for example, and if you want that 530 on both sides, then select "3 Numbers for Two Sides". The $3.00 is for each brass number you need.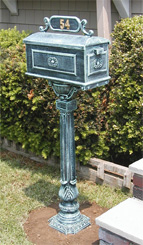 Verde Traditional # 5 cast
aluminum mailbox & post.



Mailbox Available without pedestal

Replacement Pedestals available, too.
But this pedestal only fits our Traditional # 5.
If you did not buy your mailbox from us, then you buy this pedestal with no guarantee that it will fit your mailbox. It has two bolts as shown in the picture at right, and a square plate on the bottom with four holes in it.
To order the pedestal.... click here.